Can you go into the loft?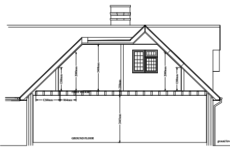 We can help you make the most of your home with a loft conversion.
You may be able to go ahead with your loft conversion without submitting a planning application if it comes within 'permitted development' (see 'What is permitted development?').
If permitted development doesn't allow the proposed extension into the roof, you will need to go through planning – this process can take up to ten weeks.
We can provide the drawings and information you need for a planning application.  They are usually submitted online via the Planning Portal.  Planning Applications are in a standard form format.
Full plans for Building Control Regulations
You will always need Building Control (Regulations) consent. The Regulations have been developed by the government and set a standard for every aspect of property, from design to construction.  This process takes  approximately six weeks and generally requires full plans together with technical details, which we can provide.
In some situations it isn't possible to get Building Regulations consent and we can offer advice if this is the case.
Before going ahead with the design, read What To Check Before Designing A Loft Conversion.
Extending your property
If you are thinking about an extension, it is important to seek professional advice at an early stage. You will need drawings to get the necessary approvals from the local authority. Planning Permission is often required but it may be permissible under permitted development rights.
We can advise you on what is likely to be acceptable.  If you do need approval under the Building Regulations, you may need to submit detailed design drawings along with technical construction details.
Our loft & extension design service
We provide a full design service, which includes a Measured Survey, going through your requirements and preparing design drawings.
We will seek a number of tenders from contractors so you know you are getting a competitive price for the agreed design and level of specification.
Your choice
You can choose the level of service you want. If you wish, we can just help you apply for Planning Permission (if required) and Building Regulations approval.
At the other end of the scale, we can provide a comprehensive Contract Administration service, which includes preparing a specification, tendering to contractors, periodic site meetings during the contract, signing the works off and preparing the account.
What next?