If you're buying a new property one of your first tasks will be to arrange a survey. However, before you bring in your chosen surveyor, there are some basic checks that you can carry out yourself, whether you intend to get a full Building Survey (previously known as a Structural Survey) or the standard HomeBuyer Report.
Why carry out pre-survey checks?
Why should you carry out these checks when you have already engaged a professional chartered surveyor to do the job? The idea is simply to make you more informed so that when choosing between properties, you can spot some of the common problems before having a survey.
What to check for inside your new property
Check…
1. Walls and ceilings for cracks
2. Internal walls for signs of damp. Damp rooms will often smell damp. Visible signs include mould or peeling wallpaper, or walls might feel damp to touch.
3. Woodwork for holes and dust from woodworm (see photograph)
4. For crumbling internal woodwork. This could be a sign of dry rot.
5. The loft for cracks of daylight, adequate insulation (at least 200mm), and bowls used to catch leaks.
6. The plumbing. Old lead water mains or internal pipes. Poor water pressure could be a sign of potential plumbing problems.
7. For springy floors – feel free to rise up on the balls of your feet and carefully drop down on your heels.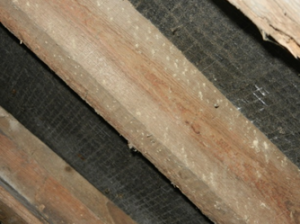 What to check for outside your new property
Check…
8. The brickwork. If the pointing is in a poor state, then damp will get in. Are there any cracks? Also check for staining in corners or below gutters.
9. The roof. Are there missing tiles? (see photograph) Is the roof line sagging? Is there any missing guttering? With a flat roof, check for splits or blisters.
10. The chimney to make sure the pointing in the brickwork is in good condition.
11. For cover-ups – such as where paint or render has been applied.
12. The condition of timberwork, doors, windows and so on.
13. For leaning or wobbly boundary walls.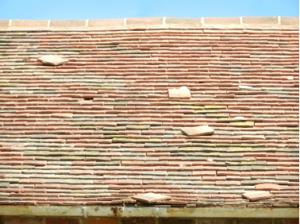 Looking out for these problems can help you assess the condition of the properties you are viewing.  If you are still interested in the purchase then you can highlight them for your Homebuyer Report or Building Survey as areas of specific concern.

In my next blog post, I will look at some common and potentially serious defects and what you can do about them.
What next?